Sustainability, creativity and innovation: Highlights from Vicenzaoro
12th February 2020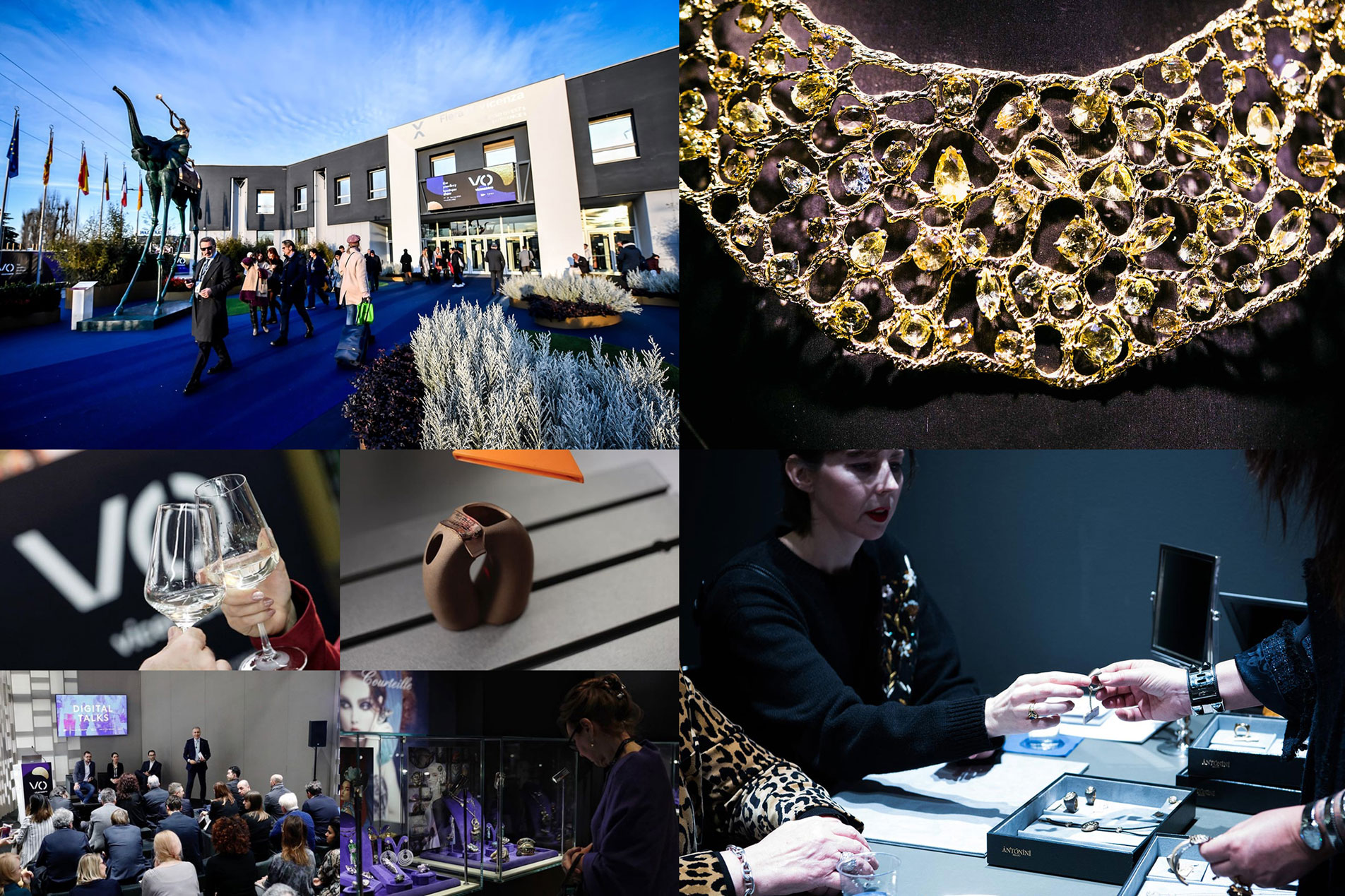 1500 brand exhibitors, over 40 events and 35 000+ visitors — 60% of which were international buyers from 126 countries. This is a snapshot of Vicenzaoro, the leading global event for the gold and jewellery world.
From 17-22 January 2020, jewellers, creators, producers, technologists, buyers, visitors and MetCon gathered in Vicenza, Italy, to celebrate the new trends, collections, and technologies of gold and jewellery.
Vincenzaoro aims to promote connections with the international market and addresses creativity, innovation, training, design, territory and cultural content. Attendants topped the highest number in the last 10 years to fill the Vicenza Expo Centre, which was divided into three main shows. The Jewellery Boutique Show showcased brands and jewellers, T.Gold demonstrated the very best of technology and the new VO Vintage exhibited exceptional vintage watches and jewellery.
In-between the sparkles, panel talks featuring industry leaders the likes of Bulgari, De Beers and Vhernier focused on the challenges and opportunities in the market. Talks ranged from the future of diamonds to sustainable coral to blockchain technology.
Across the board, in our perspective, there were three main takeaways:
1. Story
Jewellery is a human, emotional experience. Precious metal, gems and stones have value that extend beyond cost. Jewellery is memory, it is momentous. It symbolises important relationships and plants beautiful flag markers in the timeline of our lives. The industry is recognising the need to respect and respond to this. As producers and creators, brands are encouraged to tell true and coherent stories, inviting consumers to be a part of them.
2. Sustainability
This is the big one. Eleonora Rizzuto, Sustainable Development Manager at Bulgari and LVMH Italia, emphasised the impossibility of ignoring the three pillars of sustainability: economic, social and environmental. Christina Squarcialupi, President of Unoaerre pointed out how it is "fundamental that companies facing the world of innovation … do so through green strategies." The World Jewellery Confederation (CIBJO) held a workshop that dealt with responsible sourcing, directed at small and medium enterprises. Gataeno Cavalieri, President of CIBJO, highlighted the significant, positive contribution that the diamond industry can make in the countries in which it operates. Responsible Jewellery Council (RJC) spoke about a responsible production chain, suggesting strategies to create virtuous synergies between environmental and manufacturing sustainability. (Shopfront RJC certificates were prolific across Vicenzaoro.)
Ultimately, provenance, process, people and production all need to be considered and reconsidered, ensuring adherence to sustainable best practice. Consumers expect transparency and good behaviour. Brands are increasingly being made to answer the question: Are you part of the problem, or are you part of the solution?
"The concept of luxury, which once … evoked exclusiveness and social status, now continues to speak of quality but the artisan kind; one that must inspire inclusiveness and social status. The new consumers want to know that they are contributing to resolving a problem, not creating one, even when they buy jewellery."
Stephen Lussier, Executive Vice-President Consumer and Brands, De Beers Group
3. Technology
Craftsmanship, but not as you know it. There is nostalgia for handmade creations, and there may be a market for the imperfect and the irregular, but technology is here to stay. Impeccable artistry is being mastered by precious metal processing machinery, and people are loving it. As long as product integrity, from material through process to hand, is upheld.
Startupbootcamp, one of the world's leading start-up accelerator networks, positions technology and digital innovation as strategic business leverage. Alexandra Trosin, Senior Adviser at Startupbootcamp wants companies to not only "face innovation but also totally embrace it: at both product and process levels and as an authentic business model". She encourages using smart products, AI, efficient digital supply, B2B and B2C omni-channel experiences and social networks as strategic assets, alongside traditional media and sustainability.
If we are to take Vincenzaoro at face, numbers and vibe value, we may put to bed fears of a declining jewellery market. We are encouraged by story (always close to MetCon's heart), focused on the potential of technology, and enthusiastic to join the greater sustainability journey, as ours is just getting started.
Watch the Vicenzaoro 2020 highlights.
Visit Vicenzaoro September.
CIBJO, The World Jewellery Confederation, represents the interests of all individuals and organisations earning their livelihoods from jewellery, gemstones and precious metals. They cover the industry from mine to marketplace in various production, manufacturing, trading and retail centres.
RJC, Responsible Jewellery Council, helps companies across the jewellery supply chain address sustainability best practices and align with the United Nations Sustainable Development Goals. They do this by providing certified Code of Practices.
Photo credit: Vincenzaoro