Is it Karat or Carat? Settle it! Know the difference, impress your friends
5th July 2022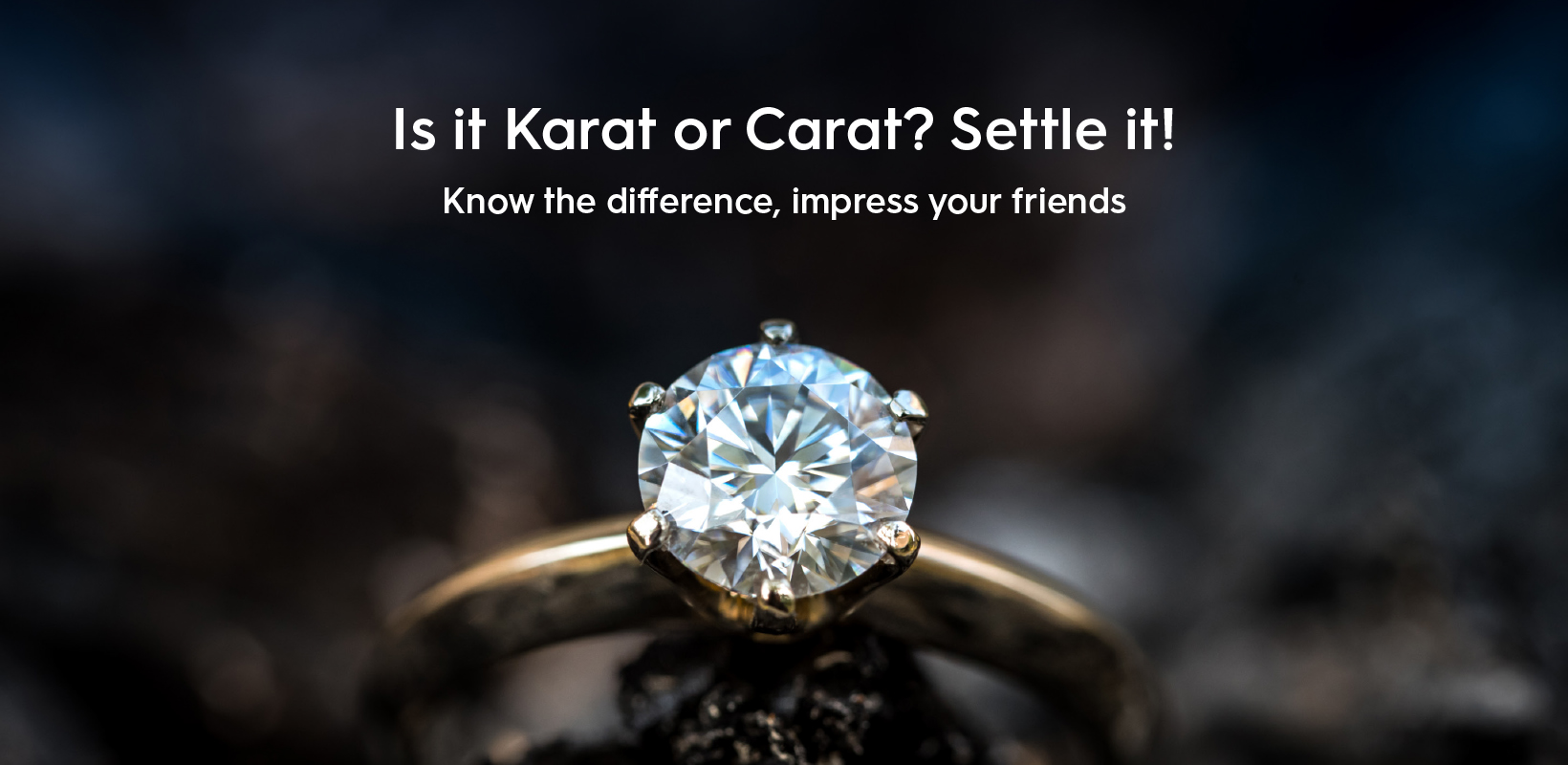 Is it karat or carat?
The origins of karat and carat
C, K, c, t, CT or KT?
Plot twist! When karat can be carat
Have your say
Let's clarify two of the most common and confused terms when it comes to precious metal and fine jewellery.
Is it karat or carat?
Let's get into it. 
A carat is a unit of weight for precious stones, most commonly diamonds. It is the globally recognised standard for the weight of a diamond or gemstone. Carat measures mass. One carat is equal to 200 milligrams, or 0.2g. So, a 2 carat diamond weighs 0.4g. A 5 carat diamond weighs 1g. 
A karat is a measurement that refers to gold and its purity. In detail, a karat is a unit of fineness for gold equal to 1/24th part of pure gold in an alloy. The greater the amount of pure gold, the higher the karat rating. Pure gold is 24 karats. 18 karat and 14 karat gold contain gold at a lower percentage, 75% and 58% respectively. Anything less than 24 karats is blended with one or more other metals, often for durability, strength or colour. Karat is only ever used for gold. You won't find 18 karat platinum or silver.
But the words can be tricky. See below for the whole story!
The origins of karat and carat
The word carat derives from Arabic qīrāṭ, and refers to 'carob seed' or 'carob bean'. From the Greco-Roman period, the carob seed was used as a reference weight, particularly for precious stones. It was believed carob seeds varied little in weight. This has since been proven incorrect. 
The word karat is from the same source. How it came to refer to the fineness of gold seems to be because the carob seed was equivalent in weight to the Roman siliqua (silver coin), which was then equal to 1/24th of a golden solidus (gold coin). And so, karat came to determine 1/24th part of pure gold in an alloy. Now you know.
C, K, c, t, CT or KT?
Opinions diverge! The abbreviation often seems to come down to preference. Though Merriam Webster states that carat is almost always written in full, many reliable gemological houses abbreviate carat to ct. Many jewellery houses seem to use k, Kt or kt when referring to the fineness of their gold (and often interchangeably). 
According to the London Bullion Market Association, the abbreviation for fineness is always k, regardless of whether it's caratage or karatage. For example, 18k when referring to 18 karat gold. To the LBMA, 18C or otherwise is meaningless. 
Plot twist! When karat can be carat
Just when you think you've got it, the internet reminds you that karat can be interchangeable with carat. In specific instances. Stay with us. 
According to Merriam Webster the substitution of karat for carat in regard to precious stones is always incorrect. BUT the opposite — using carat in place of karat to indicate the fineness of gold — is okay. Why? Supposedly, the variant spelling of karat (that is, carat) in the assessment of gold predates karat, going back to the 16th century. Carat is also said to be a correct spelling of karat outside the US. So, confusing yes, but possible.
Important to remember though, that carat would not be referring to the mass or weight of gold, but to the purity. Carat may refer to the measurement of a precious stone's weight and/or to the purity of gold. Karat only ever refers to the purity of gold, and never to describe diamond weight.
Have your say
What is your take on carat vs karat? How have you labelled your jewellery, populated your content or trusted your favourite brands? We'd love to hear from you!
Reach out, take the poll or simply share your thoughts with us on social, @metcon_sa or The Jewellers' Story by MetCon.