A World of Colour
29th August 2023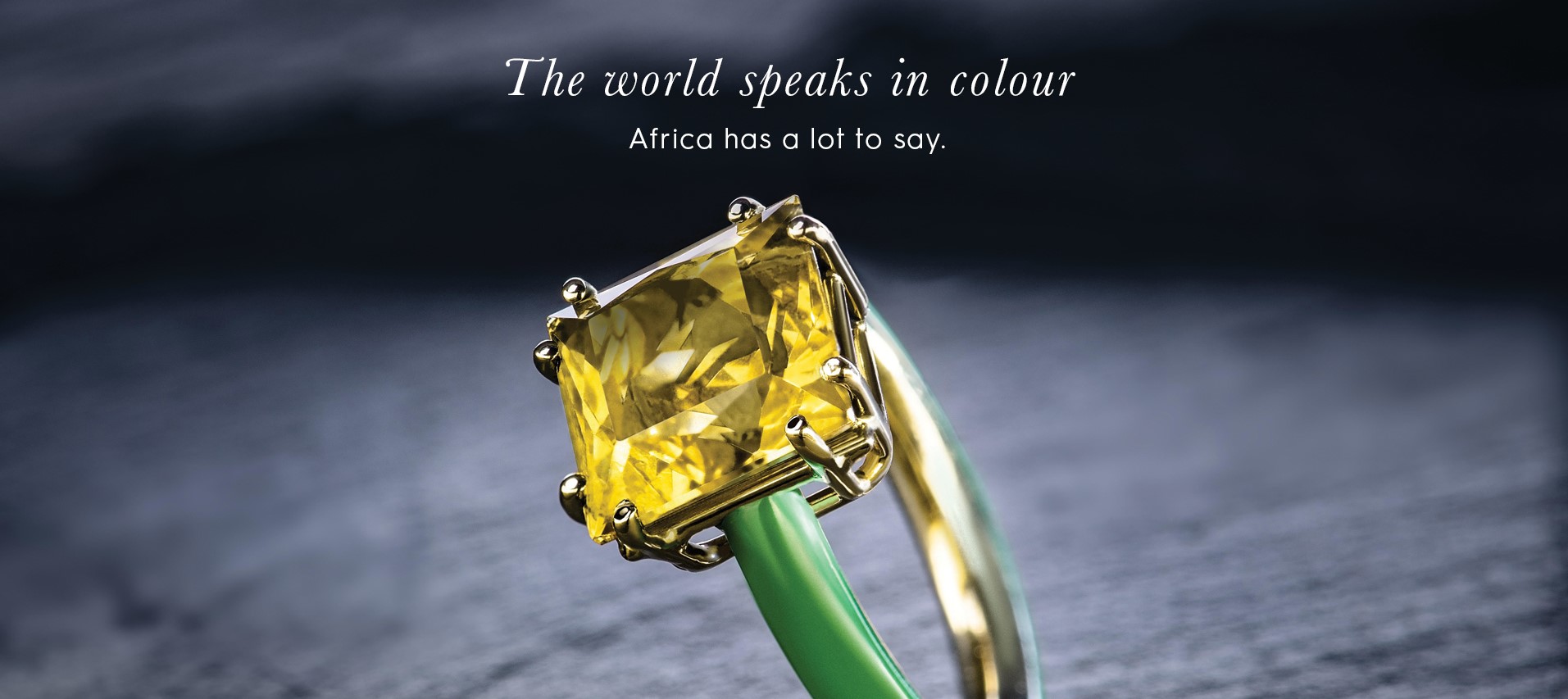 Africa is bursting with colour. Striking natural landscapes, vibrant cultural patterns and vivid media surrounds us every day. Jewellers have the unique opportunity to celebrate this array of colour by incorporating it into their fine jewellery – creating works of colourful, wearable art.
Known techniques of adding colour to jewellery include the use of enamel, laquer and gemstones. A novel technique making waves on the international jewellery front, is the use of ceramic. Numerous renowned high-end jewellery brands are incorporating ceramic colour technology to create head-turning pieces.
Ceramic offers a modern approach to coloured jewellery and offers the benefits of colour variety, vibrance, strength and durability. 
MetCon has partnered with Austrian-based Invicon Chemical Solutions to introduce an innovative colour design approach to the South African jewellery industry.
About Invicon
Established in 2004, Invicon founders Gerhard Zanghellini and Peter Bubendorfer had the vision of using the principles of composite material in the dental industry and applying it to jewellery and watch design. 
An interesting parallel, both the dental and jewellery industry require material that is easy to harden, remains stable and can be precisely machined and polished. In addition, the material must be resistant to mechanical stress, form a strong bond with the carrier material, must not discolour and must be harmless to health. 
Today, Invicon is a market leader in the engineering and manufacturing of harden-able composites used in applications across the jewellery-, watch-, automotive, medical- and lifestyle industry.

Premium Colour Design Systems
Exclusive colour jewellery design requires suitable materials that can be processed simply and efficiently, without compromising on quality and durability. Using superior composite materials gives the jewellery in which they are used an unmatchable luxurious lustre. Invicon's HyCeram, LuxArt and Luxon provides a range of solutions to bring coloured jewellery to life.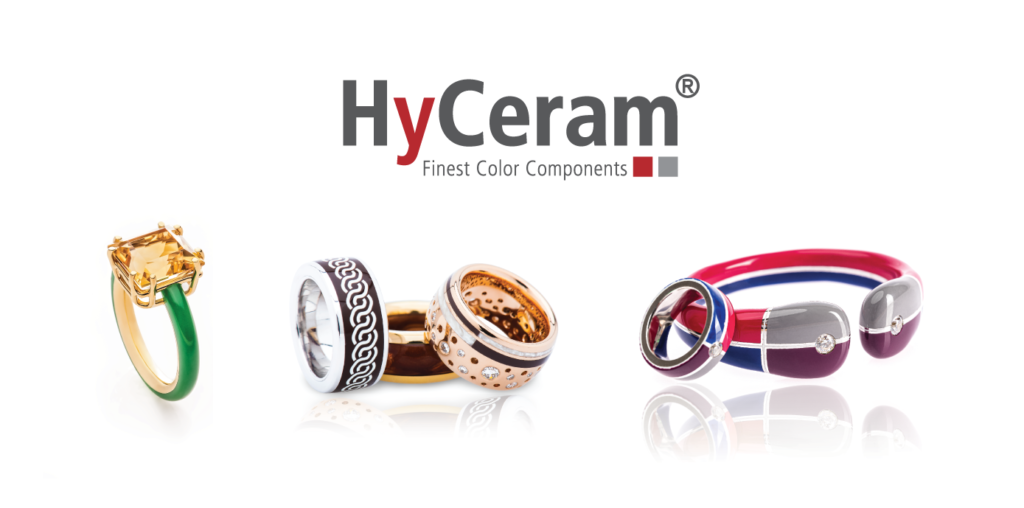 This innovative hybrid design material combines 60% micro-fine ceramic and an organic matrix with a surface hardness of 410 N/mm². Through the use of thermo-curing, the result is an ultra-strong compound with intense colour and a premium finish. The colour range is dynamic and will inspire the most expansive jewellery creations.  Ideal for the production of opaque colour pieces with outstanding colour effects.
Processing options for HyCeram are vast. It can be grinded, drilled, milled, laser engraved, cut and polished. Items filled with HyCeram can undergo electroplating without effecting the material.  Its surface hardness makes it an ideal material for setting precious stones and gems.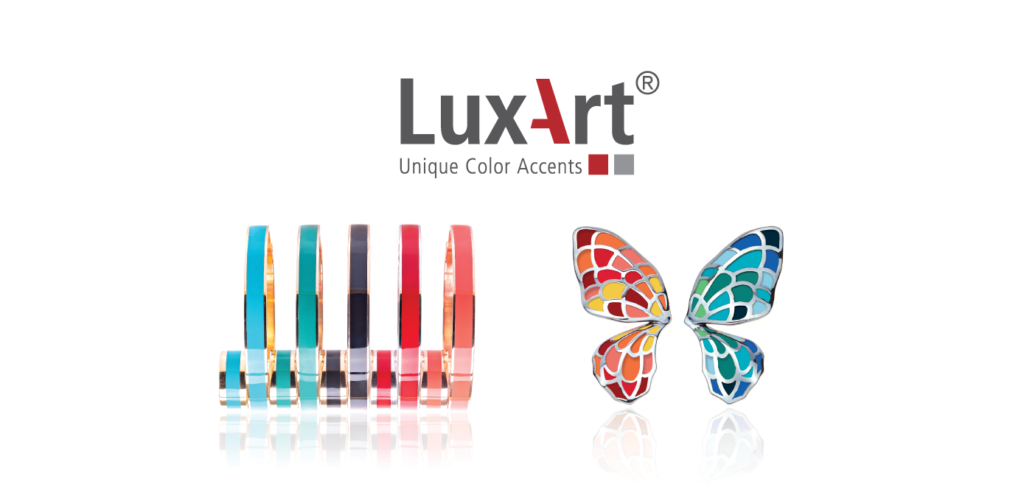 With a 35% ceramic content and organic matrix, LuxArt delivers exactly what its name suggests. Using high-speed blue-light curing and with a surface hardness of 210 N/mm², this design material is ideal for the production of luxurious opaque or semi-transparent jewellery pieces using unique colour accents.
LuxArt can be grinded, laser engraved and polished. It is also suitable for setting precious stones and gems.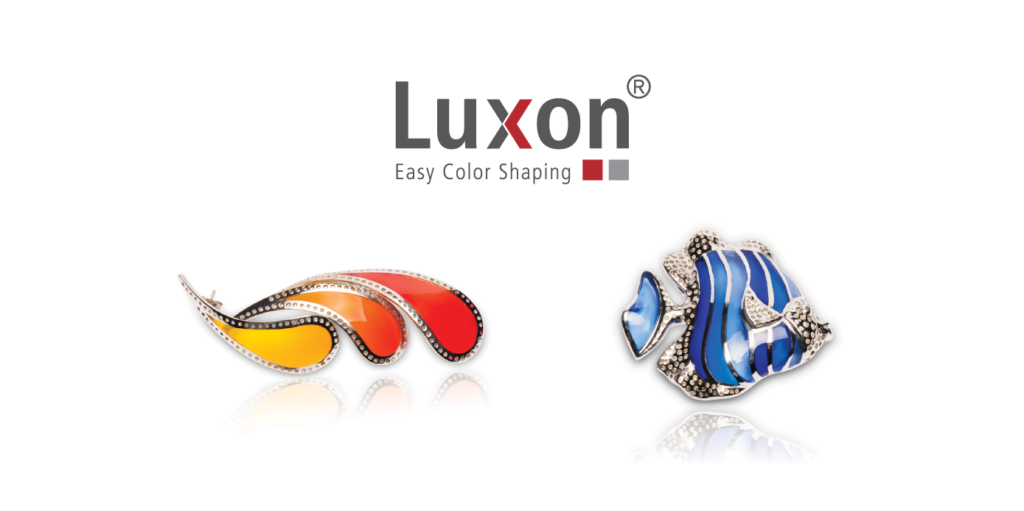 With colour flexibility in mind, Luxon is an acrylate design material with a surface hardness of 140 N/mm² and high-speed light curing ability. The range offers customisable levels of transparency, pastel effects and pigmentation options opening an additional spectrum of creative possibilities.
Luxon can be grinded and polished. In its clear form, it can also be used over printed foil as a protective sealant. 
HyCeram, LuxArt and Luxon can be used with all precious metals and alloys, are biocompatible (harmless to humans and nature), colourfast and UV stable.  Prior to curing, the viscosity of the materials makes it easy to apply and mould into the desired design. 
Invicon's colour design technology is not only beautiful, but commercially savvy. The flexible processing features and colour variety make it an ideal medium for creative expression, whilst the unique composite formulations ensure confidence in quality and durability. A true depiction of the term 'wearable art'.
"We are thrilled to bring colour into the MetCon world and to offer this innovative technology as a service to our clients. The world speaks in colour and we believe that Africa has a lot to say." 
– Grant Crosse, MetCon Managing Director

Download our brochure
Download our colour catalogue