8th December 2020
Malefa Phoofolo
People's Choice Winner PlatAfrica 2020
Every year MetCon and Anglo American Platinum help promote and enable young, up-and-coming jewellers through events like PlatAfrica. This year's People's Choice Award deservedly went to Malefa Phoofolo; a skilled, considered and driven jeweller. We recently caught up with Malefa to learn more about her, her piece, and a couple of other things.
1. What inspired you to pursue a career in jewellery?
Design inspired me to settle on Jewellery. I've always liked to draw since I was young; I used to draw dresses mostly. When I went to varsity the Fashion Design department was full and the Jewellery department was not, so I decided to take Jewellery Design and Manufacturing because of my love for design.
2. What is your first memory of jewellery?
Making my first wedding band. I was fascinated by the way my ring sparkled after polishing it, and the fact that I could not see my solder joint. My first ring was my first love in jewellery and that's when I fell in love with it.
3. Is there anyone you look up to in the jewellery world?
I look up to Coco Chanel, because she brings the world of fashion and jewellery together. She made me realise that it's possible to marry fashion and jewellery which is a reality for me.
4. You're an apprentice at Tinsel, whose products seem to vary widely in material and style. Was it a challenge to work almost exclusively with platinum, or did it come easily to you?
Working with platinum was a challenge for me because it was my first time. The metal was a bit hard to work with compared to silver which is softer. But I loved the challenge, took the risk and faced it head on, and enjoyed myself in the process. I love that platinum doesn't scratch easily, and that it sparkles when polished.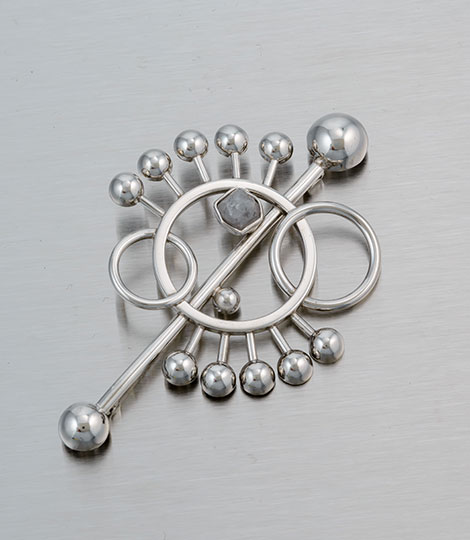 5. The narrative you weave between Corona, its basic definition, and Siya Kolisi is great; and displays magnificently in The Crown of Glory. Did the concept precede the design, or did they evolve together?
The concept and the design of my brooch evolved together because my inspiration resembles the crown in the Corona symbol. And as I worked on the analysis of Siya Kolisi's humble beginnings, it was easy to take his life from beginning to now and work it through my piece. All the different parts of the brooch speak about Siya's life.
6. Please walk us through your piece, its different parts and what they symbolise?
The three circles symbolise unity. The wires with domes around them symbolise the glory and shine of the Springboks winning the Rugby World Cup. The wire in the middle of the brooch symbolises the trophy, and the rough diamond symbolises Siya Kolisi as the captain of the team.
7. A focal feature of The Crown of Glory is the semi-faceted rough diamond. Why did you choose this particular stone?
The rough diamond symbolises Siya Kolisi's rare uniqueness, strength and passion for rugby and his team.
8. Is there any advice you have for aspiring jewellers out there trying to make a name for themselves?
What I want to say to aspiring jewellers is, do not give up on your dreams! What you are dreaming of becoming may seem impossible now but keep believing and working towards it. That's how dreams become a reality. Regardless of how many times you fall, keep rising.
9. What's next for Malefa Phoofolo?
I'm going to do a 6-month course in diamond cutting and polishing. And I'm going to do my Masters in Jewellery Design in Milan, Italy in November 2021.
#MetConSA #SupportTheJeweller #PlatAfrica2020 #TheCrownofGlory